Backgammon Variants



Nackgammon

This backgammon variation was invented by Nack Ballard. It is the same as the regular game, except that each player starts with two additional back checkers.

Setup: The setup is the same as in backgammon except that one checker from each player's six-point and mid-point are moved to the opponent's two-point. The players start with four back checkers rather than the usual two.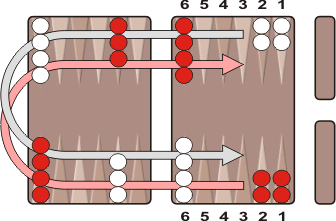 All other rules are the same as backgammon.
Nackgammon is played using the doubling cube and the Jacoby rule, so gammons and backgammons count only if the cube has been turned. Or it may be played in matches using match play rules.
Nackgammon requires more skill than regular backgammon. The games tend to be quite a bit longer because you cannot easily run your back checkers. It is a positional game, with more emphasis on priming and back games, and less on attacking and blitzing.
Differences from Backgammon
Each player starts with two checkers on the opponent's one-point, two on the opponent's two-point, four on the opponent's twelve point, three on the eight-point, and four on the six point.