The Remarkable Barclay Cooke
(1912–1981)

Les B. Levi, 1982
From Backgammon Times, Volume 2, Number 2, Spring 1982.
The recent death of Barclay Cooke, one of America's undisputed backgammon champions, was announced in thousands of newspapers across the country. The New York Times ran his photo, Sheinwold eulogized, and the syndicated Goren-Sharif bridge column replayed a daring bid of "one of the shrewdest" gamesmen who ever took card in hand. First and foremost Cooke was a backgammon player, and he lived and died a disciple of the game. Below is an account of this extraordinary man's life.
---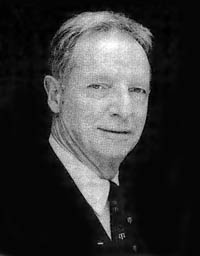 Few backgammon players have left as rich and varied a legacy as Barclay Cooke, a star tournament player and the author of three backgammon books whose remarkable career began with the early twentieth-century renaissance of the game and continued to flourish for over five decades. Educated at America's finest schools and further refined in the nation's poshest social clubs, Cooke, before his death last November at the age of 69, was perhaps backgammon's most gracious ambassador and eloquent spokesman.

If he was not the "father of modern backgammon" as Sports Illustrated once wrote, Barclay Cooke was at least one of its patron saints who claimed thousands of followers. He was also a family man, an opera buff, a crackerjack bridge player, and a sports fiend whose passion for baseball ruled his life. And although he traveled in the volatile world of sharks, welchers, and high-stakes hustlers, he left behind only admirers—Barclay Cooke died without a single enemy. As one longtime friend reflected, "Barclay was one of a kind—the fairest, most generous man that ever played backgammon."

* * *

Barclay Cooke's background is not one that often gives the world backgammon professionals. Born in Paterson, New Jersey, he was the son of an oil wildcatter who had made—and lost—a substantial fortune. The elder Cooke, a bridge player, sports enthusiast, and gentleman scholar, lost his wife when Barclay was only twelve. But the family stayed close, and the brothers—Bob, through his career as a sports writer and editor, and Barclay, during a lifetime as a professional gambler—embraced the elder Cooke's commitment to good sportsmanship and learning.

Like his father, Cooke first attended St. Paul's, the exclusive New Hampshire prep school, and later Yale, where he majored in English and cultivated his lifelong passion for literature, sports, and games. He played on the school hockey team and along with his brother starred with the St. Nicholas Hockey Club.

At Yale he played backgammon, although not until years later did he commence his rigorous study of the game. Most of all he was a natural gambler who relied on his mathematical acumen and unfailing instinct to lay the best odds.

Madora Thompson Cooke, his wife of forty-six years, learned not to gamble with her husband even before their marriage. "I lost the use of my car in a tennis match against Barclay one summer," she recalls with amusement. "I never gambled with him again."

Madora did become her husband's constant tournament companion, bridge partner, and backgammon "guinea pig" on whom he worked out his game strategy. In fact, many of the positions discussed in his books come from their games.

After college Cooke sought a conventional career but in time discovered he was unsuited. By his own account, he worked first as a roustabout in an oil field and, after his marriage in 1935, became a bank trainee. "A bank," Madora says today, "was the wrong place for Barclay to work." He left after three years.

A series of unsuccessful entrepreneurial ventures followed: manufacturing dictaphones, fireproofing blankets, and marketing a coin-operated clothes-press. But with his dictaphone business Cooke succeeded in staying out of World War II; it was considered a war-related operation. His four-year hitch as the in-house announcer at Madison Square Garden, the last of his jobs, was less work than pleasure for the articulate sports maniac dubbed "Golden Voice."

"Working as an announcer was more of an excuse for Barclay to go out every night," says Madora. "After all, announcers didn't get paid very much." They certainly didn't: Cooke, who announced college hockey and basketball, was paid only $25 a game, far less than he could make at an evening of backgammon.

Cooke's final bid for a conventional job was as field manager of a baseball team, a lifelong ambition. When the millionaire broker Andre de Coppet decided to buy the Philadelphia A's after a $6 million windfall (the team cost only $1.5 million in 1951, practically the price of a single player today), he did it mainly for his friend: Cooke would manage the team for $1 the first year, and, if de Coppet was satisfied, a contract and a regular salary would follow. But the broker died before the sale went through and the prospect of glory for one of America's most fervid baseball fans faded. Cooke lamented afterward, "It would have changed my life."

Backgammon and sports wagering proved to be Cooke's real forte and by 1949 they became a full-time occupation. Out of college in the thirties, he played in the New York clubs—the Cavendish, Delmonico's, the Knickerbocker, the Regency, the Whist Club—and matched wits with the emerging giants of modern backgammon, men like Oswald Jacoby, Johnny Crawford, and Tobias (Stoney) Stone. Cooke himself gave credit to his two mentors, Buddy Simonson and Ira Williams.

But learning the game was costly: in 1942, before he had achieved the expertise that made him great, Cooke was almost ruined financially. "To touch bottom is very good for character building," he later said, "if and only if you are not annihilated in the process." He was lucky enough to pay back his debts and preserve his reputation.

When Cooke finally got good—by his own account, it took fifteen years—he became one of the dominant figures in the game. At New York's exclusive Racquet and Tennis Club he gathered around him over a dozen top-notch players who still carry his trademark. One protege from the 1950s recalls: "I played, but I didn't know beans about backgammon—Barclay taught me everything. He saw the intellectual aspects and fine points of strategy and was far and away backgammon's most outstanding player before the mathematicians and computer experts started taking it up."

The winner of backgammon tournaments too numerous to name, Cooke competed regularly at the Regency Club, the Racquet Club, in London, Nassau, St. Moritz, and Las Vegas. He nearly won the celebrated 1974 Dunhill International aboard the Queen Elizabeth II, but was upset by Charles Benson's double fours in the explosive final round; he lost 29–28. More than four times in the last twenty years he won the coveted Vietor Cup at the round-robin invitational tournament sponsored by former Yale classmate Jack Vietor. As a three-time winner, Cooke actually took possession of the cup. And in 1979, with teammates Oswald Jacoby, Paul Magriel, and Lee Genud, Cooke played on the winning side of the ITT Telecom match against Europe, the world's only trans-Atlantic backgammon competition.

Above all, Cooke valued his victory in the 1973 British-American Cup when he teamed up with his son Walter to play the heavily-favored British team. The brainchild of Kenneth Wagg, an English banker, the British-American Cup was the first duplicate backgammon tournament ever staged. Contestants played in different rooms but moved to the same dice, and teammates were not allowed to consult.

Phillip Martyn, regarded as Europe's best player and proclaimed invincible by the press, joined forced with Joe Dwek, a ranking British competitor. Wagg asked Cooke to represent America, and he in turn chose Walter as a teammate.

"I knew that Ken had already selected Phillip Martyn and Joe Dwek for the English pair," Cooke wrote in Championship Backgammon, an annotated account of the match. "When asked to name a second, I chose my son Walt—a controversial decision, naturally. There were hints of nepotism. But I insisted that the principal reason for selecting him was that I knew he could play—and play as well as any of the other American experts."

The style of the two Americans was different. With years of experience, Barclay was a cautious, defensive player—"much too conservative," says his old friend, Oswald Jacoby. Walt, though, was a ferociously aggressive gamesman who, at the age of 35, was on a winning blitz that had already given him five or six major tournament victories and private purses that amounted to a small fortune.

Madora compares the two men's playing styles: "Walt was much luckier than Barclay—he never had the periods of terrible luck his father did. Barclay was just not a good roller, so instead he played defensively, wore people down.

"Walt was always on the offensive," Madora recalls. "He was confident the dice would go his way." And they did—until his death the following year.

Diagnosed in 1972 as a cancer victim, Walt was given only two years to live. By late 1973, he was still able to play; the American team won comfortably, 73–64, after forty games. By the following year, during the return match, Walt was in serious pain.

"I'll never know how Walt played in that second tournament," says his mother today, "or how Barclay ever carried him through. The terrible headaches affected his play." The American team lost.

Four days before Christmas, 1974, Walter Cook died. His son's death was the most painful tragedy Cooke ever endured. Of his four children—Walter, Barclay Jr., Madora, and Rebecca—only Walt had seriously taken up his father's unusual profession. As an old friend of the family observed, "One of the things Barclay was proudest of was his son Walt. He felt Walt had exceeded him as a backgammon player. The death was just too awful."

Besides backgammon, Cooke found sports betting irresistible, and during the baseball season his pace was frantic. One friend recalls, "I was fascinated the first time I visited Barclay at his summer home in Connecticut. The television and radio were blaring, the phones were ringing and Barclay was watching the baseball game while making and taking bets. After the game we sat on the terrace and I was about to ask him some questions.

" 'I know what you're thinking,' Barclay said. 'You're thinking that baseball is a substitute for life.'

" 'That's exactly what I was thinking,' I replied.

" 'Well, you're wrong,' Barclay concluded. 'Life is a substitute for baseball.' "

Part of the uniqueness of Cooke was that he straddled two different worlds. He was a prep school and a Yale graduate who belonged to Manhattan's most exclusive clubs where he mingled with America's elite class. At the same time, "Society Barclay," as his backgammon chums called him, was at home in the racier milieu of international gambling; there a man's only pedigree is judgment and nerve.

"That's what was different about Barclay," recalls Monte Carlo winner Lee Genud, who first met Cooke in 1970 and played as his teammate in the 1979 ITT Telecom match. "He belonged to both worlds. Even among gamblers, who are a pretty rough crew, Barclay was always very warm, very gracious, and very ethical.

Tannah Hirsch, the president of Goren International, syndicators of the bridge column, describes the impression his friend made: "When you looked at Barclay, the last thing you would think of was a Yale graduate and a serious student of the classics. Barclay always walked around with his hair uncombed. With his rough-hewn features and rumpled suit he looked like a country yokel more than anything else. It was easy to underrate Barclay. But his contribution to backgammon theory through his books was impressive.

Besides Championship Backgammon, an account of the 1974 British American Cup match written with Rene Orlean (Prentice Hall, 1980), Cooke wrote two other books in his lifetime: Backgammon: The Cruelest Game (1974) with Jon Bradshaw, and Paradoxes and Probabilities (1978), both published by Random House.

Joe Fox, his editor at Random House and a friend from the Racquet Club, speaks of The Cruelest Game in almost religious tones, "I'm almost sure it's the most successful backgammon book ever. Over 100,000 copies have been sold. It's one of our backlist books that keeps selling. Paradoxes," Fox notes, "is less successful because it assumes the reader's expertise. Sales have been slower."

After 1974, Cooke's competitive involvement in backgammon gradually became slight. Eclipsed by the crop of math and computer whizzes who dominated the game, he attended few tournaments and played in virtually no money games. Still, as one of the grand old men of backgammon, he gave lessons, wrote, and traveled to lecture and promote his books. Where he did serve as a rulings maker in some of the big tournaments, he was regarded as much too generous to make firm decisions.

In the late 1970s, aggravated by a back ailment that left him nearly crippled, Cooke chose to stay close to home. On November 29, 1981, he died of a stroke at his home in Englewood, New Jersey. Thousands of people from around the world acquainted with him through tournaments and his books mourned his passing. He was one of the last of the supremely gifted gamesmen of his generation.