General Procedures
Arrive an hour early and support your establishment by having dinner.

List the names of the players and collect their entry fee as they arrive. Don't forget to note whether or not they enter the optional side pool.

We schedule our drawing for possible byes at 7.00 p.m. All players arriving by this time have an equal chance for a bye. You should not accept phone-in reservations for this drawing.

Following the draw, names are entered on the drawsheet. Players who have an opponent may begin their match. Those with no opponent have "temporary byes."

Late comers (those arriving after 7.00 p.m.) may sign up for the tournament until 7.30 p.m. (The way the draw sheet is numbered, late comers always have an immediate match). After 7.30 p.m., entries close and the remaining byes become official.
Sample Draw
Here's a sample for a 14 player $10 entry fee tournament (with 80% return) and a $5 optional side pool. (Side pools give the "high rollers" more money action). The elimination format we use guarantees two matches. If you win your first match, you're in the Main Flight; if you lose your first, you're in the Consolation. A loss after your first match eliminates you from the tournament. This procedure guarantees everyone at least two matches.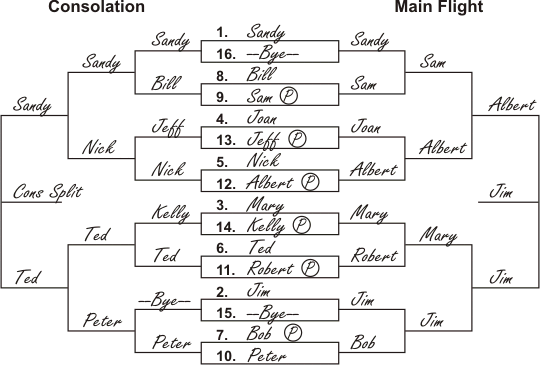 Optional Side Pool
Rank of Finish
1. 1st
2. 1st/2nd Split
3. 2nd
4. 1st Cons.
5. 1st/2nd Cons.
6. 2nd Cons.
7. Semifinal Main

Master Point
Awards

Jim: 1.12
Albert: 0.56
Mary: 0.40
Sam: 0.40
Sandy: 0.44
Ted: 0.44

Prize Money


1st = $56
2nd = $28
1st Cons. = $28
6 = $30
Notice that although Sandy drew a bye, she still went into the consolation after losing to Sam. (Everyone is guaranteed two matches). Jim also drew a bye, but because he defeated Bob in Bob's second match, Bob is eliminated and Peter gets a bye into the next consolation bracket.

Jim receives $56 for winning the tournament. Albert gets $28 for second place and $30 for advancing furthest among the pool players. Ted and Sandy split the consolation to win $14 each.

Develop your own master point system, or write Chicago Bar Point Club and we'll mail you ours.

Chicago Bar Point Club
3940 W. Bryn Mawr Ave. 504
Chicago, IL 60659-3155
Telephone: 773/583-6464
E-mail: bg@chicagopoint.com